EZ Framer PLUS with Laser Light
---
Centering a design for hooping or framing has never been easier with our new EZ Framer PLUS with Laser Light! The EZ Framer PLUS Laser Light simplifies the hooping/framing process for both the novice and veteran embroiderer. Weighing in at less than 9 pounds, it is both lightweight and totally portable. The unit comes with the laser light, mounting bracket, and a power supply with an on/off switch. Also included are two (2) "C" clamps for quick setup or, the unit can be mounted permanently to a work surface. The package also includes an Embroiderer's Helper for left and right chest design placement and cross-hair stickers for marking the center of a design.
Industry experts estimate over 95% of all embroidered items require a hoop or frame 15cm in size or smaller. The EZ Framer PLUS Laser Light will accommodate hoops and frames from the smallest sizes up to 21cm round hoops - 7 1/4" (O.D.), plus magnetic Mighty Hoops, and Durkee EZ Frames up to 7 1/4" (O.D.).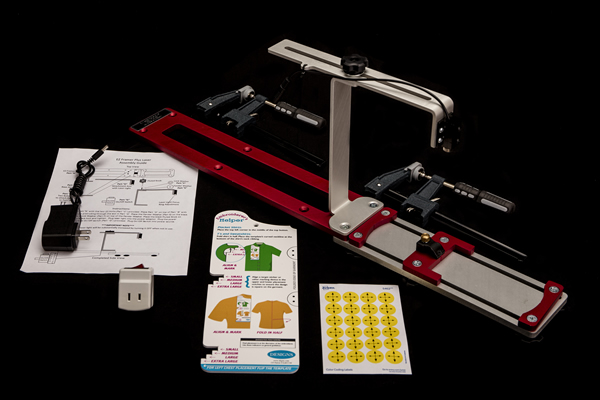 Regular $439.95 Online Price $395.00 Buy Now and Save $44.95!